Brown Marmorated Stink Bug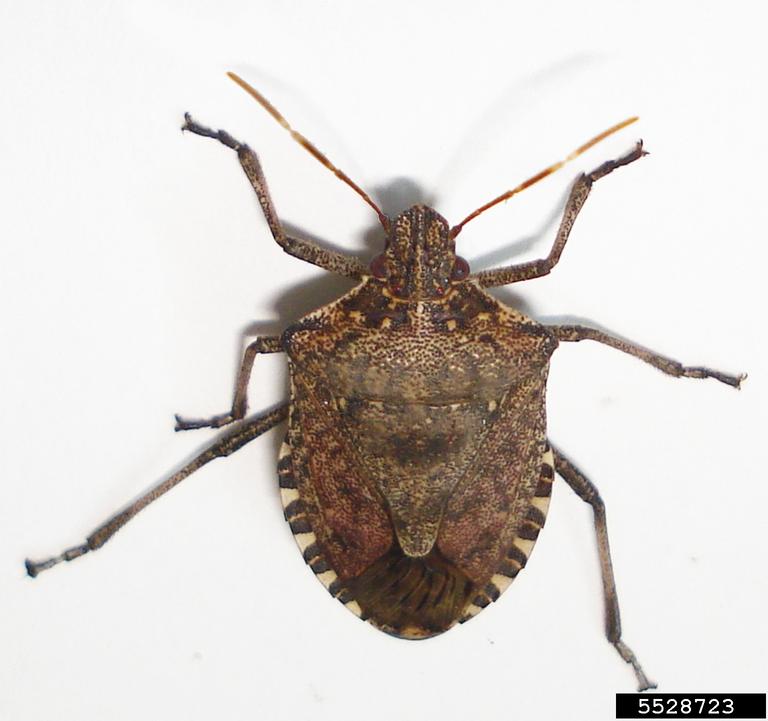 Image Credit: Jennifer Carr, University of Florida, Bugwood.org
Creative Commons Attribution-Noncommercial 3.0 License
There is a good chance that if you have not had an encounter with the Brown Marmorated Stink Bug, that you will. Or perhaps you know of someone who has had the problem of being invaded by the large, flying critters.
Although there are native stinkbugs or shield bugs, these insects are green and most homeowners have not been bothered by them because there numbers are fewer and they do not enter structures like thier invasive cousins, the Brown Marmorated Stink Bug or BMSB.
Brown Marmorated Stink Bugs are not native the united states therefore they have no natural predators to keep thier numbers under control. They are believed to have been first found in Pennylvania in 1998 and have since started making thier way west across the United States. They are a significant pest of many agricultural crops. Add to this, the fact that the Brown Marmorated Stinkbug will try to find shelter in homes and buidings and they can be a real problem for homeowners.
Our Perimeter Spray Service is recommended to control Brown Marmorated Stink Bugs in and around the home. The best times of the year to do this are spring and fall.
5 Facts about Brown Marmorated Stink Bugs
Brown Marmorated Stink Bugs will try to find shelter behind siding, in gaps around windows and doors, and other sheltered locations around the home.
Brown Marmorated Stink Bugs overwinter in these sheltered locations. Thier metabolism slows down, and they don't move around much. By doing this they conserve energy and do not need to feed. A good thing since thier is little that they could eat in the colder months.
The insect that you may be seeing in the spring or on warm winter days, have already gotten inside the structure the previous fall.
If they make thier way into the walls of your home, they may detect the heat from inside. On warmer winter days, the sun may heat the walls and they become active and may wander into the home.
A basic pest control service may help, but is usually not enough to get rid of all of them. The best approach is to perform a thorough perimeter spraying of the exterior in the fall when they are seeking shelter. By eliminating them before they get inside, there are much fewer insects to wander in.